Établir une application de base visuelle
| | |
| --- | --- |
| | |
---
Créer votre première application
Dans cette section, nous n'entrons pas dans l'aspect technique de VB programmant, avons juste un sentir de lui et maintenant, vous pouvez essayer les exemples ci-dessous :
L'exemple ci-dessous est un programme simple et tout d'abord, vous devez lancer de base visuel de Microsoft. Normalement, pour lancer votre nouveau projet, une forme Form1 de défaut sera disponible pour toi. Maintenant, le double clic sur form1 et alors la fenêtre de code source pour form1 apparaîtra. Ne pas s'inquiéter de begining et les rapports de fin (c.-à-d. sous-marin secondaire privé d'extrémité de Form_Load.) et puis clef juste dans les lignes entre les deux rapports ci-dessus exactement comme sont montrés ici. Quand vous exécutez le programme, vous serez la surprise que rien révélé et afin de montrer le rendement du programme, vous ne doivent ajouter le rapport d'ow de Form1.sh comme dans l'exemple 1, l'exemple 2 et l'exemple 3. L'essayer dehors.
Example 1

Private Sub Form_Load

For i=1 to 5
print "Hello"
next i

End Sub
Example 2

Private Sub Form_Load

Form1.show
For i=1 to 5
print "Hello"
next i

End Sub

Example 3

Private Sub Form_Load

Form1.show
For i=1 to10
print i
next i

End Sub
---
Étapes en établissant une application de base visuelle
L'étape 1At d'abord, dessinent l'interface
L'étape 2Then, a placé des propriétés
Étape 3After qui écrivent le code d'événements

Exemple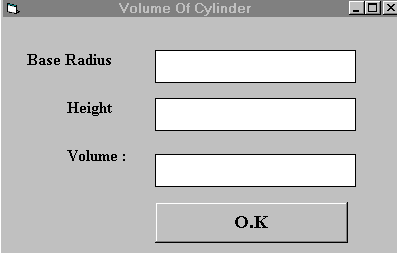 Ce programme est un programme simple qui calculent le volume d'un cylindre. Conception laissée l'interface :
Au début, aller à la fenêtre de propriétés et changer la légende de forme en volume de cylindre. Alors l'aspiration trois marquent des boîtes et changent leurs légendes en andvolume de taille, rayon bas respectivement. Après ce, vous obtenez trois boîtes vides en dessinant trois boîtes et espaces libres des textes son contenu des textes. A nommé l'asradius de boîtes des textes, le hght (nous ne pouvons pas employer la taille car c'est le nom intégré de commande de VB) et le volume respectivement et pour finir, insère un bouton de commande et change sa légende toO.K. et son nom en OK. Maintenant économiser le projet comme cylinder.vbp et la forme comme cylinder.vbp aussi bien et nous omettra les codes à l'heure actuelle que vous l'apprendrez dans lesson3.
---
| | |
| --- | --- |
| | |
Keywords: Building a Visual Basic Application, vb net application, source code basic, application source code, application control, visual control, excel application, application xml, visual code, c++ basic, visual function, word basic, application function, vb application, building code, visual window, building projects, application text, application code, application dll, visual project, application object