---
---
---
Plotting
A D V E R T I S E M E N T

It is also easy to create plots in Matlab. Suppose you wanted to plot a sine wave as a function of time. First make a time vector (the semicolon after each statement tells Matlab we don't want to see all the values) and then compute the sin value at each time.
t=0:0.25:7; y = sin(t); plot(t,y)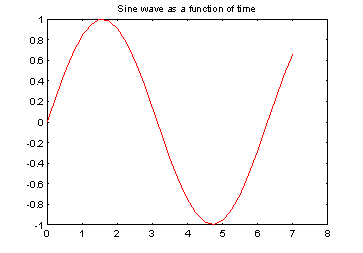 The plot contains approximately one period of a sine wave. Basic plotting is very easy in Matlab, and the plot command has extensive add-on capabilities.
---
Be the first one to comment on this page.
Matlab News
No News on Matlab could be found as of now.
Matlab Jobs
No Matlab Articles could be found as of now.
---
Keywords: matlab file exchange,matlab documentation,matlab matrices,matlab vectors,matlab polynomials,matlab vectors,matlab functions
HTML Quizzes
XML Quizzes
Browser Scripting Quizzes
Server Scripting Quizzes
.NET (dotnet) Quizzes
Multimedia Quizzes
Web Building Quizzes
Java Quizzes
Programming Langauges Quizzes
Soft Skills Quizzes
Database Quizzes
Operating System Quizzes
Software Testing Quizzes
SAP Module Quizzes
Networking Programming Quizzes
Microsoft Office Quizzes
Accounting Quizzes