Key in the data illustrated below accordingly as we will use it as our example to create chart.


When you click on the Next button, this will display the Chart Options dialog box.



Step 3: The Chart Wizard (3) – Chart Options

From the chart options dialog box displayed, you can select Titles, Legend, and Data Labels tabs and make the necessary changes.
To add title to a chart
You can choose to place the Excel pie chart on an existing worksheet as an object, or you can place it on a new worksheet. Two options for you to choose:

As new sheet: – It will place the chart in the new worksheet.
As object in: - It will place the chart in the existing worksheet.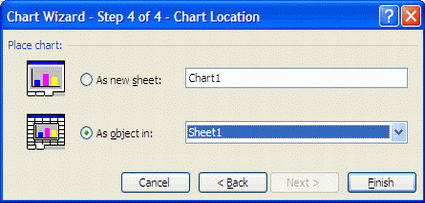 Click on the Finish button and the Excel pie chart will be created as you have specified during the Chart Wizard creation process.