Connect to the Access database
A D V E R T I S E M E N T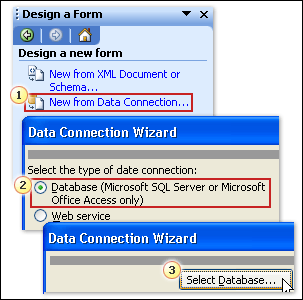 Follow these steps after you click Design a Form:
In the task pane, click New from Data Connection to open the Data Connection Wizard.
In the wizard, click Database (Microsoft SQL Server or Microsoft Office Access only) as the type of connection you want.
You make the data connection to the Access database when you start to design a new InfoPath form. The picture illustrates the initial steps you take, using the Data Connection Wizard, to connect to the database.
The data connection establishes a dynamic link between your form and the database so that form users can view and work with the database data.
Start with a new form
By making the data connection when you create a new form, you set up the database as your main, rather than secondary, data source, which means you can edit and add records to the database via the form, and you can query the database. In order for users to be able to edit database data in the form, the database has to be the main data source.
Start the new form by clicking Design a Form on the File menu or in the Fill Out a Form dialog box.
Note You can't take an existing form and create a data connection that will be a main data source. You must make the connection when you start a new form.