The Word Table of Contents
---
---
---
The Word Table of Contents: Create Document TOC with few Clicks!
A D V E R T I S E M E N T

A Word table of contents (TOC) is a guide at the beginning of a document/book that tells the reader where to find sections within a document. The table of contents lists section headings and their corresponding page numbers.

Microsoft Word has a wonderful built-in function to create a table of contents, using headings within a document or from an outline. Here we will tell you how to create a TOC using heading styles.

To create a Word Table of Contents
Make sure your document is finished and formatted with heading styles.
Position your cursor at the place in the document you'd like the TOC to appear.
From the Insert menu, point to Reference and click on Index and Tables.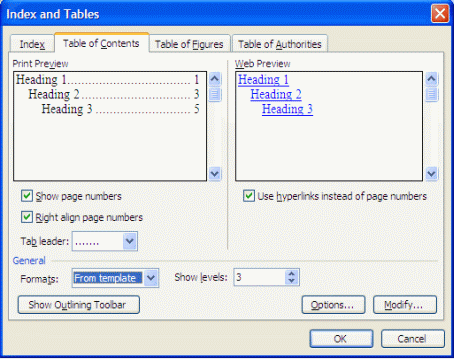 From the Index and Tables dialog box displayed, click the Table of Contents tab.
Under the General section, choose the pre-defined styles Formats: .
Indicate the heading depth you would like displayed in the TOC by modifying the Show levels: box.
Other options already pre-selected by default:
Show page numbers: You can show (or omit) page numbers in the TOC.
Right align page numbers: Make your page numbers right align in the TOC.

You can modify the Tab leader, which controls the appearance of the space between the end of the section title and the page number in the TOC.
Once finish, click OK.

To update a Table of Contents
Right click on the area to the left (or within) the TOC and select Update Field from the pop-up menu. This will display the Update Table of Contents dialog box.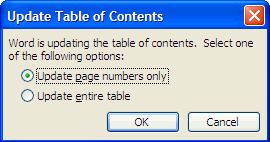 From the Update Table of Contents dialog box displayed, you can choose to update page numbers only or entire table.
Click OK button.

To delete a Table of Contents
Select or highlight the entire TOC.
Press the Delete key.
---
Be the first one to comment on this page.
---
Keywords: word document,word introduction,word templates,word symbols,word table,word hyperlink,word header,word clipboard
HTML Quizzes
XML Quizzes
Browser Scripting Quizzes
Server Scripting Quizzes
.NET (dotnet) Quizzes
Multimedia Quizzes
Web Building Quizzes
Java Quizzes
Programming Langauges Quizzes
Soft Skills Quizzes
Database Quizzes
Operating System Quizzes
Software Testing Quizzes
SAP Module Quizzes
Networking Programming Quizzes
Microsoft Office Quizzes
Accounting Quizzes