Exploring Microsoft Outlook 2003
---
---
---
Exploring Microsoft Outlook 2003
A D V E R T I S E M E N T

Microsoft Outlook 2003 is part of the Microsoft Office. It can be used as a time-tracking tool, with calendar, contacts and tasks as well as a full email system.

To start Outlook using the Windows Start menu

Click on the Start button, point to Programs, following by Microsoft Office and click on Microsoft Office Outlook 2003.
Note: For Office previous version of Office - Click on the Start button, point to Programs and click on Microsoft Outlook.
Immediately you will see the screen shown below.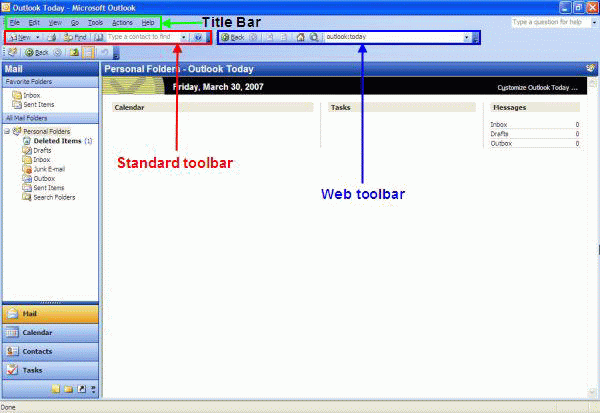 The Outlook window contains a number of standard features including the Menu bar, Standard toolbar and Web toolbar.
The Microsoft Outlook 2003 Environment

The Outlook 2003 contains three major panes as shown here: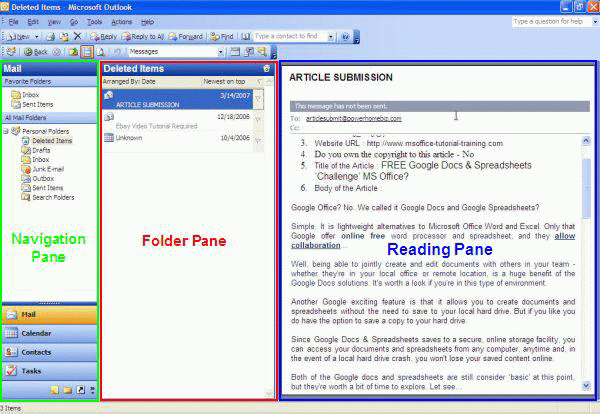 Navigation pane is located in the left side of the screen allow you to navigate between different folders.
The folder pane located in the middle of the screen, you can select the folder that you wish to view.
Reading Pane, which by default is on the right side of the screen. It is the place for you to view/read the content.
The Navigation Pane

The Navigation Pane is new in Outlook 2003, it replaces the Outlook bar. To view it, from the View menu, click Navigation Pane.

The Navigation Pane area holds the Mail, Calendar, Contacts, Tasks, Notes, Folder List, Shortcuts and Journal icons.
By right-clicking on any of the icons in the Navigation Pane, a pop-up menu will appear: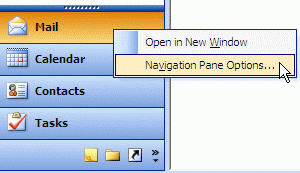 By selecting Navigation Pane Options will open the Navigation Pane Options dialog box as shown here: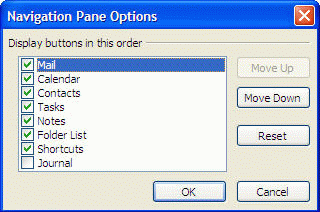 Tick on the particular box will enable you to choose which buttons to show in the pane.
Using the Move Up and Move Down button you can change the order of the buttons.
When finish, click on the OK button.
---
Be the first one to comment on this page.
---
Keywords: microsoft outlook 2003 introduction,microsoft outlook 2003 customizing,microsoft outlook 2003 navigation pane,microsoft outlook 2003 exploring outlook toolbar
HTML Quizzes
XML Quizzes
Browser Scripting Quizzes
Server Scripting Quizzes
.NET (dotnet) Quizzes
Multimedia Quizzes
Web Building Quizzes
Java Quizzes
Programming Langauges Quizzes
Soft Skills Quizzes
Database Quizzes
Operating System Quizzes
Software Testing Quizzes
SAP Module Quizzes
Networking Programming Quizzes
Microsoft Office Quizzes
Accounting Quizzes