Introduction to Customer Relationship Management
CRM provides powerful analytical tools to help you and your business partners identify market segments for specific products and services, coordinate sales and marketing efforts, and turn customer information into real sales results.


A D V E R T I S E M E N T



mySAP CRM provides your sales, customer service, and top management staff with immediate information on customer habits and market trends.

CRM – part of the MySAP Business Suite – a central CRM server providing access to various systems via various channels

Interaction Center – enables customers to contact service or sales reps by phone, fax or email
Internet Access – internet components of CRM
Mobile Clients and Handheld Devices – for mobile sales or service reps..
The CRM solution offers the following fully integrated connections:
CRM as a central CRM Server
SAP R/3 Backend (ECC) providing the ERP functions
SAP BW system – the data warehouse solution
SAP APO system as a global ATP check
SAP Enterprise Portal – integrated access to all systems
Built on top of SAP WebAS – provides: Scalability, Platform Independence, Full ABAP Development Environment, Software Logistics

CRM Server Contains: CRM Server Applications, Main Parts of CRM Middleware, CRM Database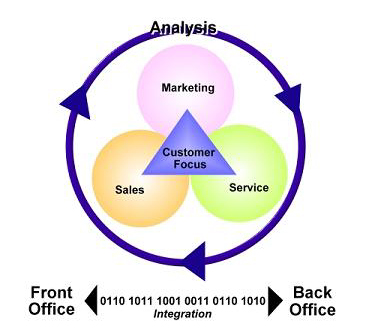 CRM Middleware functionality consists of:
Data queuing and Transport, Replication and Realignment, Data Exchange and Mapping
Articles
SAP Unveils SAP CRM On-Demand Solution: Delivers Immediate Business Value and A Strategic Path for Enterprise CRM
Delivering on its commitment to provide enterprise customers with solutions that meet both current and future business needs, SAP announced an expansion of its market-leading mySAP Customer Relationship Management (mySAP CRM) solution to include an on-demand option. The SAP CRM on-demand solution is designed for large and midsize organizations to manage sales, service, and marketing in an easy-to-use solution delivered directly via the Internet, offered through a subscription-based licensing model.
Customer successes
Bertelsmann AG, Germany
Colgate-Palmolive Inc., USA
Dow Corning Inc., USA
Texas Instruments, USA
Wuerth, Japan