---
---
---
JSP architecture
JSP are built by SUN Microsystem servlet technology. JSP tag contain Java code and its file extension is .


A D V E R T I S E M E N T


jsp. The JSP engine parses the .jsp and create a Java servlet source file. Then it compile the source file into a class file,this is done first time only therefore JSP is probably slower when first time it is accessed.After this compiled servlet is executed and is therefore return faster.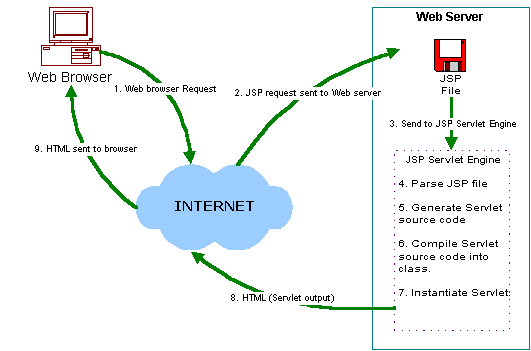 Steps for JSP request:
When the user goes to a JSP page web browser makes the request via internet.





JSP request gets sent to the Web server.





Web server recognises the .jsp file and passes the JSP file to the JSP Servlet Engine.





If the JSP file has been called the first time,the JSP file is parsed,otherwise Servlet is instantiated.





The next step is to generate a special Servlet from the JSP file. All the HTML required is converted to println statements.





The Servlet source code is compiled into a class.





The Servlet is instantiated,calling the init and service methods.





HTML from the Servlet output is sent via the Internet.




HTML results are displayed on the user's web browser
---
Be the first one to comment on this page.
---
Keywords: JSP Architecture, jsp mvc architecture, jsp sample code, servlet architecture, jsp source code, web application architecture, web services architecture, application server architecture, open source architecture, jsp open source, architecture in jsp, jsp web application, java architecture, ejb architecture, jsp tutorial, jdbc architecture j2ee architecture, jsp tutorials, struts architecture, rmi architecture, jms architecture, oracle architecture, jboss architecture, corba architecture jsp examples, weblogic architecture, jsp faq, jsp basics, jsp documentation, tomcat architecture, mysql architecture, jsp overview, hibernate architecture, j2me architecture, jsp projects, jsp introduction, swing architecture, mvc architecture, ldap architecture, jsf architecture, jsp programming, jsp applications, jndi architecture, jsp samples, jsp api, jsp components, jsp objects, jsp specification, jdbc jsp, jsp example, jsp j2ee


© 1999-2007 VisualBuilder.com - This article has been adapted from VisualBuilder.com.