Introduction to Microsoft PowerPoint 2003
| | | |
| --- | --- | --- |
| | | |
---
---
---
Introduction to Microsoft PowerPoint 2003
The Microsoft PowerPoint is one of the Microsoft Office suites of programs. It primary function is to produce presentation materials.

To start a PowerPoint program
Click on the Start button, point to Programs, follow by Microsoft Office and click on Microsoft Office PowerPoint 2003.
Note: For previous version of Office - Click on the Start button, point to Programs and click on Microsoft PowerPoint.
Immediately you will see the screen shown below. The right hand side Getting Started task pane provides help to you.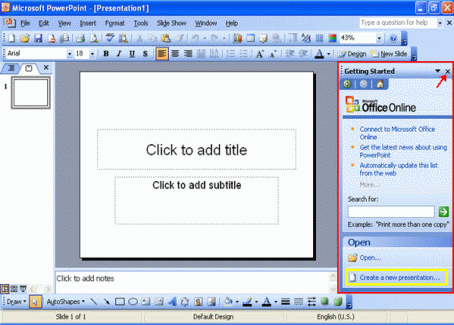 If you are not using it, you can click on the Close icon to close it. You also can start by clicking on Create a new presentation… at the bottom of the task pane.
The PowerPoint 2003 screen elements: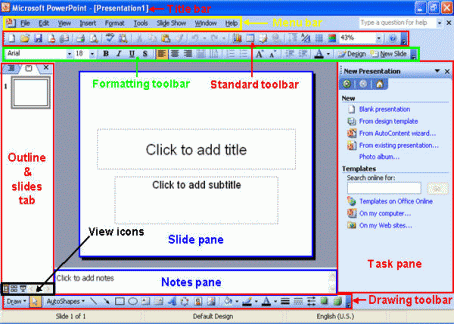 To enter text into a presentation
From the PowerPoint slide pane, there is 'box' that labeled 'Click to add title'. Just simply click and enter the text there.
For example, you may enter "This is my first presentation."
Then click on 'Click to add subtitle' and you also can enter some text there.

Saving and Closing a presentation

This feature allows you to store new or existing presentations on disk. If you not save the file, you will be unable to view the presentation in the future. Once saved, you can re-open the file for viewing or editing.

To save a presentation
From File menu, click Save.


If it is a new file, the Save As dialog box displayed, ensure that you are located in the folder/disk drive of your choice by clicking the arrow to the right of the Save in: drop down box and navigating to your required location.
Enter the file name in the File name: text box. The default file name is Presentation1, you can use it or type in a new file name.
Let say we key in First presentation for the file name, click on the Save button to save. Note: Now the presentation is saved to My Documents folder.

To close a presentation
From the File menu, click Close
OR click Close Window icon.
If unsaved changes have been made to your presentation the dialog box below is displayed, giving you the chance to save the presentation prior to closing.



Click Yes to save the presentation before closing
OR click No to close without saving changes
OR click on Cancel to cancel the operation.

To exit Microsoft PowerPoint
Click on the Close icon displayed on the top-right corner of the screen.
---
Be the first one to comment on this page.
---
Keywords: powerpoint introduction,powerpoint autocontent,powerpoint slide show,powerpoint features,powerpoint presentation,powerpoint autorecover,powerpoint design.
HTML Quizzes
XML Quizzes
Browser Scripting Quizzes
Server Scripting Quizzes
.NET (dotnet) Quizzes
Multimedia Quizzes
Web Building Quizzes
Java Quizzes
Programming Langauges Quizzes
Soft Skills Quizzes
Database Quizzes
Operating System Quizzes
Software Testing Quizzes
SAP Module Quizzes
Networking Programming Quizzes
Microsoft Office Quizzes
Accounting Quizzes