HTML Tutorials
XML Tutorials
Browser Scripting
Server Scripting
.NET (dotnet)
Multimedia
Web Building
Java Tutorials
Programming Langauges
Soft Skills
Database Tutorials
Operating System
Software Testing
SAP Module
Networking Programming
Microsoft Office
Accounting
| | |
| --- | --- |
| | |
---
Queues
A queues é a estrutura de dados linear final que nós vontade examinamos. Como a pilha, a queues é também um tipo de lista restrita. Em vez de restringir todas as operações a somente uma extremidade da lista como uma pilha, a queues permite que os artigos sejam adicionados na uma extremidade da lista e removidos no extremo oposto da lista. A figura abaixo deve dar-lhe uma idéia boa da vista abstrata da queues.

Este as limitações colocadas em uma queues causam a estrutura ser "Primeiro-Em, a Primeira-Para fora" ou a estrutura do FIFO. Esta idéia é similar às linhas de cliente em a em toda a loja do pagamento da conta (por exemplo queues do pagamento da conta do telefone). Quando o cliente A está pronto para verificar para fora, ou entram na cauda (extremidade) da linha de espera. Quando os clientes precedentes pagaram, a seguir o cliente A paga e retira da cabeça da linha. A linha do conta-pagamento é realmente uma queues que reforce "vindo primeiramente, uma política do primeiro saque".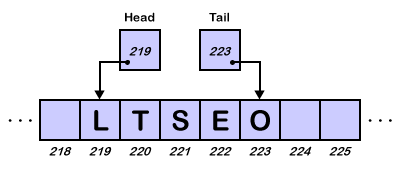 We will represent these two operations with the following notation:
EnqueueItem(Queue, Item)
Item DequeueItem(Queue)

Estas duas operações são muito similares àquela das operações que nós aprendemos para a estrutura de dados da pilha. Embora os nomes sejam diferentes, a lógica de usar os parâmetros é a mesma. A operação de EnqueueItem (incorporar o artigo da fila) faz exame do parâmetro do artigo e adiciona-o à cauda (extremidade) da fila. A operação de DequeueItem (artigo da fila da supressão) remove o artigo principal da fila e retorna esta como o artigo. Observar que nós representamos o artigo retornado com um keyword situado à esquerda do nome da operação. Estas duas operações são parte da vista abstrata de uma fila. Não obstante como nós escolhemos executar nossa fila no computador, a fila deve suportar estas duas operações.


---
A vista da execução
Quando nós olhamos as estruturas requisitadas da lista e de dados da pilha, nós vimos duas maneiras diferentes executar cada delas. Embora as execuções fossem diferentes, a estrutura de dados era ainda a mesma do ponto abstrato da vista para a pilha e a lista requisitada. Nós poderíamos uso imóvel as mesmas operações nas estruturas de dados não obstante suas execuções. Com a queues, é também possível ter as várias execuções que suportam as operações EnqueueItem e DequeueItem. A distinção entre a respresentação lógica da queues e a respresentação física da queues. Recordar que a respresentação lógica é a maneira de que nós pensamos dos dados da maneira que estão sendo armazenados no computador. A respresentação física é a maneira que os dados da maneira são organizados realmente nas pilhas de memória (memória de computador).

Agora vamos considerar como as operações de EnqueueItem e de DequeueItem puderam ser executadas na queues. Para armazenar letras na queues, nós poderíamos avançar o ponteiro da cauda por uma posição e adicionar a letra nova na queues. Para dequeue letras (da supressão), nós poderíamos remover para fora a letra principal e aumentar o ponteiro principal por uma posição. Quando esta aproximação parecer muito direta, tem um problema sério. Porque os artigos são adicionados e removidos, nossa queues marchará em linha reta com a memória inteira do computador. Nós não limitamos o tamanho de nossa queues a uma quantidade fixa de tamanho.

Talvez nós poderíamos limitar o tamanho da queues não permitindo que o ponteiro da cauda avance além da determinada posição de memória. Esta execução pararia a queues de atravessar a memória inteira, mas permitiria somente que nós enchessem a queues uma vez. Uma vez que os ponteiros da cabeça e da cauda alcançaram a posição de batente, nossa queues já não trabalharia o untill que nós suprimimos alguns dados dela.


---
| | |
| --- | --- |
| | |
Keywords: queues in c, queues in c++, java queues, c arrays, matrix in c, graph in c, sort in c, c example, c method, program in c, list in c, simple c, c implementation
HTML Quizes
XML Quizes
Browser Scripting Quizes
Server Scripting Quizes
.NET (dotnet) Quizes
Multimedia Quizes
Web Building Quizes
Java Quizes
Programming Langauges Quizes
Soft Skills Quizes
Database Quizes
Operating System Quizes
Software Testing Quizes
SAP Module Quizes
Networking Programming Quizes
Microsoft Office Quizes
Accounting Quizes