| | | |
| --- | --- | --- |
| | | |
---
---
---
Human Resource
A D V E R T I S E M E N T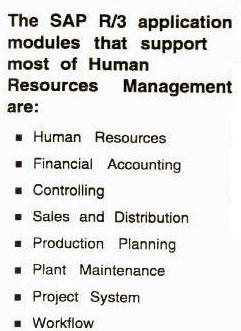 ORGANIZATION AND MASTER DATA
Human Resources for administrative and personnel management activities.
Logistics ( PP, PM ) for time management and shift planning.
Sales and Distribution for wales personnel commission related data.
Financial accounting and Controlling for payroll and cost accounting, time reporting and travel expenses.
Workflow (WF) as a process enabler for routing tasks to the proper staff.
ORGANIZATIONAL ELEMENTS
Client
company code
personnel area is used exclusively in HR and is unique within a client. Each personnel area must be assigned a company code.
personnel sub area
ADMINISTRATIVE ELEMENTS
The administrative personnel structure for human resources relates primarily to wrk hours and compensation.
Employee groups

Employee subgroups

Payroll area
ORGANIZATIONAL PLAN ELEMENTS
Organizational units
Jobs
Positions (MGT)
Persons
MASTER DATA IN HUMAN RESOURCES
Core personal data: name address etc
Organizational assignment
Work schedule
Pay rate
Deductions
Taxes
Benefits
Etc.
Changes (Maintenance) of Master data retains original data for historical reporting.
HUMAN RESOURCES PROCESS CYCLE
Recruitment

Vacancy
Advertising
Applicant screening
Profile comparison
Selection notification
Document archiving

Hiring

Extending and offer
Entering master data
Assigning active status

Benefits enrollment

Health plans
Insurance plans
Savings plans
Spending accounts
Credit plans

Training-travel expense processing

Comparison with position profile
Booking courses
Travel expenses accounting

Time reporting

Holiday calendar and work schedule
Time statements

Shift Planning
Payroll administration

Source of master data
Calculation of gross and net pay

Employee development/career planning

Suggest suitable jobs
Open position display
Succession planning
Internal position filling

Salary administration
Personnel cost planning
Reporting
---
Be the first one to comment on this page.
---
Keywords: Human Resource, SAP Human Resource, SAP HUMAN RESOURCE, SAP Human Resource tutorial, SAP Human Resource tutorial pdf, history of SAP Human Resource, learn SAP Human Resource
HTML Quizzes
XML Quizzes
Browser Scripting Quizzes
Server Scripting Quizzes
.NET (dotnet) Quizzes
Multimedia Quizzes
Web Building Quizzes
Java Quizzes
Programming Langauges Quizzes
Soft Skills Quizzes
Database Quizzes
Operating System Quizzes
Software Testing Quizzes
SAP Module Quizzes
Networking Programming Quizzes
Microsoft Office Quizzes
Accounting Quizzes