Canvas Size
A D V E R T I S E M E N T

Canvas Size allows you to change the overall size of the document canvas without altering the contents of the document. When you increase the document size, the new canvas area is added in the current background color or it will be transparent if you have no background layer. Normally you'll only be using Canvas size to increase the size of the canvas, but it can be used to decrease (or crop) the canvas also.
Open an image and choose the Canvas Size command so you can look at the dialog box now.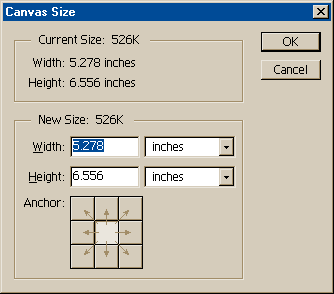 As you can see the current size is shown at the top. There are fields for entering new width and height dimensions. You can enter your dimensions as percentages, pixels, inches, cm, points, or picas. The anchor diagram lets you specify how the canvas is modified. By default, the middle box is selected which adds an equal amount of new canvas on all sides of your image (assuming you're increasing the canvas size). When you select any of the other squares, the canvas is modified in the opposite direction. For example, pressing the bottom middle square will add space to the top of your canvas.
Try it now by entering new numbers in the width and height to increase the canvas size, leaving the middle anchor square selected. Assuming your background color is the default white, you should have extra white space added all all sides of the canvas. Choose Edit > Undo (or Ctrl-Z/Command-Z) to undo the change and then choose a different background color. Try the Canvas size command again using a different anchor selection and see how it effects your image. Experiment with Canvas Size until you're comfortable with it.
By the way, if you enter some number in the dialog box and you change your mind and want to get the original numbers back, hold down the Alt/Option key and the Cancel button will change to a Reset button. Pressing reset will return all values to what they were. This trick works in just about all of Photoshop's dialog boxes, and it comes in very handy, so you'll want to add this one to your essential shortcuts list.
The Canvas Size command is fine when you want to add an equal amount of space to your canvas, or when you know the exact dimensions you need to adjust, but there is a much more intuitive and flexible way to increase, and decrease, your canvas size visually... the Crop tool.