Type Palettes and Text Warping
A D V E R T I S E M E N T

The Character Palette
Section 1: Font and Style
Section 2: Font Size, Kerning, Leading, Tracking
Section 3: Character Height, Character Width, Baseline, and Color.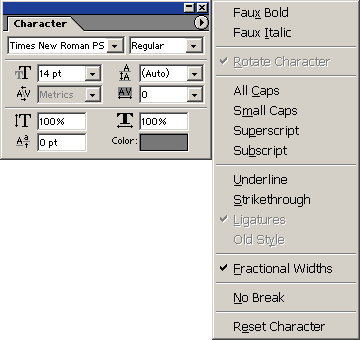 The Character Palette Menu allows you to apply faux bold and faux italics to fonts that do not include these styles within the typeface. You cannot warp type that has Faux Bold formatting. When vertical type is selected the rotate command becomes available. The following additional styles are also offered: all caps, small caps, superscript, subscript, underline, strikethrough, ligatures, and old style. Factional Widths varies the spacing between characters to make it more readable. In some instances-such as for small type to be displayed on-screen-you may get better results by disabling this option.
The Paragraph Palette


Section 1: Align and Justify
Align - Right, Center, Left
Justify - Last Line Left, Last Line Centered, Last Line Right
Full Justify
Section 2: Indentation - Left Margin, Right Margin, First Line
Section 3: Spacing Before and After Paragraph
Section 4: Enable/Disable Hyphenation
The Hyphenation Dialog Box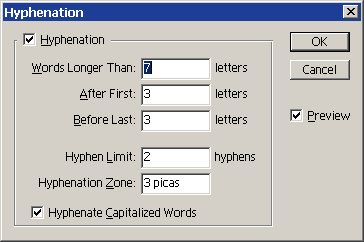 The Justification Dialog Box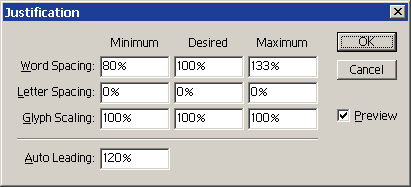 The Warp Text Dialog Box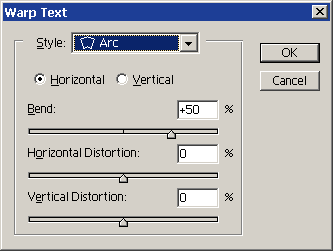 The Warp Text Dialog box allows you to bend and distort type in a variety of ways. The style menu allows you to choose from 15 different warp styles. Warp effects can be applied to the entire type layer whether it is line text or paragraph text. On paragraph text the warp is applied to the bounding box. Once you choose a warp style, you can adjust the effects using the other options in the dialog box.
The horizontal and vertical radio buttons control the orientation of the warp.
Bend controls the amount and direction of the warp. For instance, an arc effect will become more pronounced the closer you move the slider to the end of the scale. The left half of the scale creates a downward arc. The right side of the scale creates an upward arc.
The Horizontal and Vertical distortion sliders allow you to apply perspective to the warp effect.
Now that you know how to create type layers and type masks, let's combine this new knowledge with what we have learned so far to create some type effects!