Navigator Palette and Hand Tool
A D V E R T I S E M E N T

First, the Navigator palette. If yours is not showing, display it now using any of the methods you learned previously.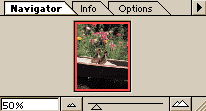 You'll also need to open a document. In the center of the Navigator palette, you'll see a small thumbnail representation of your image, surrounded by a red outline representing the visible area of your document. If your entire image is visible, the outline surrounds the entire thumbnail. If you look at the palette menu, you can choose palette options to change the color of the outline.

Below the thumbnail, we find even more controls for zooming. The text entry field lets you type in any magnification number, and the slider lets you adjust magnification up and down, and the two buttons on either side of the slider allow you to zoom in and out by set intervals.
If you move the slider all the way to the right, you'll see the maximum zoom level is 1600%. Move the slider back and forth a few times slowly and observe the red outline in the Navigator preview. As you can see, it gives you a visual clue as to what part of your image you are viewing. Click anywhere in the Navigator preview to move the focus to that area of the image. Click and drag in the preview to pan around your document. Remember, you can drag the edges of the navigator palette to change its size. The preview will increase as you increase the palette size.

Another way to pan around a document is with the Hand tool. When the hand tool is selected you can just click and drag in your document to pan the visible area. Try it now. Okay, now that you've tried it... make that the last time you ever use the Hand tool because I am going to tell you the one keyboard shortcut you will find yourself using all the time: Spacebar = Hand tool.
No matter which tool is active, the spacebar always temporarily activates the hand tool. Learn it; use it; and never look at the hand tool again. I'm not even going to bother telling you the shortcut and modifiers for the Hand tool; if you're curious, you know by now how to find that out.
At any time while working, when you need the most accurate representation of what you're working on, you should set the magnification to 100%. At any other magnification, there is going to be some level of distortion. Remember the current magnification level will always be displayed in the status bar, the navigator palette, or in the title bar of the document window.