Transforming Selections
A D V E R T I S E M E N T


When you invoke the transform selection command, a bounding box will appear around your selection, similar to the box that appears when you use the crop tool. The box has handles just like the crop bounding box that allow you to drag and stretch the bounding box. The same keyboard shortcuts you learned for transforming the crop bounding box can be used with the transform selection bounding box:
Holding down the Ctrl/Command key while dragging a middle handle allows you to skew the bounding box.
Holding down the Ctrl/Command key while dragging a corner handle allows you to distort the corners independently.
Holding down the Alt/Option key when dragging a corner handle resizes the bounding box from the center.
Holding down the Alt/Option key when dragging a side handle applies the transformation to both sides of the bounding box like a mirror reelection.
Shift constrains the movements and can be used in conjunction with the other modifier keys.
You can rotate the selection by moving the cursor just outside of a selection handle. The cursor will change to a double pointed arrow to indicate that you can rotate.
You can flip a selection by dragging one handle all the way across the bounding box to the other side.
To commit the transformation, double click inside the bounding box.
To reject the transformation, hit Esc.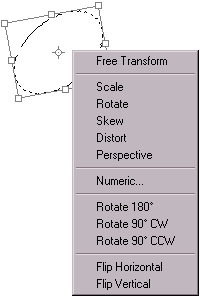 You can access additional transformation commands by right clicking/Option clicking inside the bounding box for the context sensitive menu. The context sensitive menu allows you perform transformations numerically.
Notes for Version 6.0
If you have Photoshop 6, you can transform numerically via the options bar.


Practice transforming selections to make the following shapes: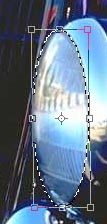 Click the thumbnail to download a larger version of this image to practice making a selection of the headlight using the transform command:

Next up we'll learn how create and edit selections visually with Quick Mask Mode, and we'll discuss the save and load selection commands when we learn about alpha channels.