Image Size Dialog Box
A D V E R T I S E M E N T

First we have the pixel dimensions of the image. The drop-down menu allows you to change the dimensions using percentages instead of pixel values.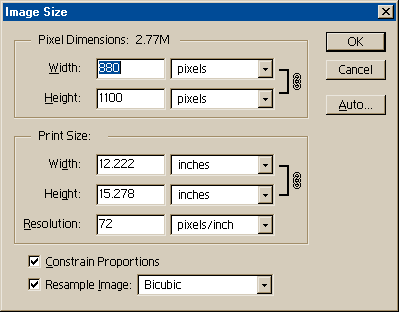 The next section is the Print Size. The default here is inches, but you can change it to cm, points, picas, or percent. For this course we'll only be dealing with inches. Also under print size is the resolution setting defined in either pixels/inch (ppi) or pixels/cm.
Notes for Version 6.0
In version 6, this section is labeled "Document Size" instead of "Print Size." In my opinion, Print Size was less confusing, but who can say what the reasoning was behind the change.
Now notice the link icons to the right of both the width and height entry fields. This means the height and width are linked together, so when you change the value of one, the other is changed proportionally. Try typing a number into any of those fields and observe how it effects both the height and width. To unlink the height and width, you can uncheck the constrain proportions check box. You'll rarely want to do this, though, because it distorts your image.
The Resample checkbox determines whether or not you preserve the pixel data in the image and it has a direct effect on the resolution field of the image size dialog. Resampling an image always involves a change in the pixel dimensions. The general rule is this:
When you are changing the onscreen size of an image you usually want to select the resample checkbox, modify the pixel dimensions, and set the resolution to 72.
When you are changing the print size of an image you will generally want to leave the resample box unselected, and either adjust the print dimensions or the resolution to get the results you need.

As you increase the print dimensions, your resolution decreases (thus, print quality decreases).
As you increase resolution, the print size must decrease based on the amount of pixel data available.
If you do not have enough pixel data to get the print size and resolution you need, then you'll have to resample the image and Photoshop will create new pixels. This often results in poorer quality print results, so you need to judge which is the lesser of two evils: the loss in quality from reduced resolution or the loss in quality from resampling.
Next to the resample check box, you'll see the menu where you can choose the interpolation method Photoshop uses to create new pixels.
Bicubic is the default and gives you the best results.
Bilinear is faster but not as accurate as Bicubic.
Nearest Neighbor does not anti-alias at all and is very fast, but because it does not blend the pixels, it results in a jagged appearance.