Eyedropper & Info Palette

When the color picker dialog is on-screen, your cursor will automatically change to the eyedropper anytime you move it outside of the color picker dialog to an open document.


A D V E R T I S E M E N T


Whenever a painting tool is active, can temporarily switch to the eyedropper to change the foreground color by pressing Alt/Option.

Double click on the eyedropper toolbox button for the eyedropper options (In Photoshop 6 the options are on the option bar.) The options allow you to specify a single pixel sample, a 3x3 average, or a 5x5 average. In most cases, the 3 by 3 average works well. This averages the color of the nearest 3 pixels surrounding the area where you click. You can also change the sample area options by right-clicking/Control-clicking anywhere in the image when the eyedropper is active.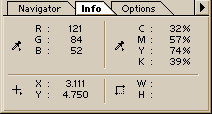 The eyedropper can be used in conjunction with the Info palette to read color values from your images. Display the info palette, then select the eyedropper and move it over your image. By default, the Info palette displays the RGB and CMYK values, as well as the X and Y coordinates of the cursor. When making a selection, the Info palette also displays the width and height of the selection.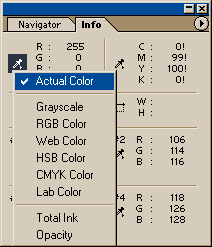 Notice the tiny arrows next to the eyedropper and crosshair icons on the Info Palette. You remember what that means, don't you? Yes... there is a menu under there! Clicking on the tiny icon pops up a menu that allows you to change the values displayed in the info palette.
Another thing to notice about the Info palette is that it gives you yet another way to identify colors that are outside of the CMYK gamut. As you move the eyedropper over your image, look at the CMYK values displayed in the Info Palette. When the percent (%) sign changes to an exclamation mark (!) it indicates a color that is out of gamut.

If you hold the Shift key down while the eyedropper is active, you can place color samplers on your image. These samplers allow you to continuously display color readings for specific points on your image. You can place up to four samplers in an image. Place a couple of sampler points on your image now and notice what happens to the Info Palette. It expands to show the sampler readings. These are useful for doing advanced color correction work.
To remove a sampler, hold the shift key down and move the cursor directly over the sampler target; the cursor will change to a pointer and then you can click and drag it outside of the document window. You can hide the samplers without removing them from the Info Palette menu. You can also choose the color sampler tool directly from the toolbox (hidden under the eyedropper), but it is much easier to just remember I for eyedropper and shift for the sampler tool.