More Quick Mask
A D V E R T I S E M E N T

Make your channels palette visible. By default it will show you a grayscale representation of each of the three color channels: Red green and blue. Now make a selection and switch to Quick Mask mode.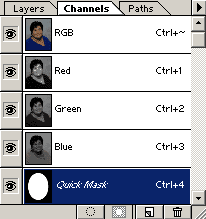 You'll see a fourth channel appear in the channels palette labeled Quick Mask. A Quick Mask is actually a temporary alpha channel. And an alpha channel is essentially a selection that has been saved. Any editing that you perform in Quick Mask mode can also be performed on an alpha channel and vice-versa. The only difference is that the alpha channel becomes part of your image (when it is saved in a format that supports them) and the Quick Mask is lost as soon as you exit Quick Mask mode and deselect.
What else can we do in Quick Mask mode? Well, you'd be surprised. Basically, any editing function that can be applied to a grayscale image can also be applied to a Quick Mask or alpha channel. You can paint on it, apply curves and levels adjustments, even use the other selection tools within Quick Mask mode. We've already experimented with applying filters, and you'll find that many of Photoshop's filters can be used in Quick Mask mode for interesting effects. You can invert a mask using the same invert command that you use to invert the colors in your image, Ctrl-I/Command-I.
You may also notice that when you switch to Quick Mask mode, your foreground and background colors automatically revert to default black and white (don't worry, your previous color selection will still be there when you exit Quick Mask mode). This is because the mask is actually a grayscale representation of a selection. When you look at the Quick Mask in your channel palette, the black areas represent what is completely masked and the white areas represent what is unmasked (these will be the selected areas when you exit Quick Mask mode). Of course, you can also have partially selected areas and these are represented by shades of gray. When you paint on a mask, black adds to the mask and white erases the mask. For further explanation of this, you may wish to read my article.
Let's try a quick exercise that will really help illustrate this.
Open any image.
Type Q for Quick Mask Mode, then hit Alt-Backspace/Option-Delete to fill with black.
Then go to Filters > Render > Clouds.
Look at the thumbnail in the channels palette and you can see it is filled with varying shades of gray.
Click the small eyeball next to the RGB channel at the top of the palette and you'll see the Quick Mask in grayscale. Click the space where the eye was to reveal color image again.
Toggle out of Quick Mask mode. The selection marquee is just a bunch of squiggly lines that don't tell you very much!
Now hit Backspace/Delete to fill with white and your image should have a smoggy hazy appearance. The areas of the mask that were darkest show the most change and the areas that were lightest show the least change.
If you find you prefer working in Quick Mask Mode over using the selection tools, you can duplicate many of the commands in the Select menu by going into Quick Mask mode and using other Photoshop filters and commands. Here's Quick Mask equivalents to some of the Select menu options:
Expand can be achieved with Filter > Other > Maximum
Contract can be achieved with Filter > Other > Minimum
Feather can be achieved with Filter > Blur > Gaussian Blur (try motion blur or radial blur for other effects.
Select > Inverse can be achieved with Image > Adjust > Invert or Ctrl-I/Command-I
Border can be achieved with Filter > Sketch > Photocopy. (Experiment with the sliders)
After applying the Select > Border command, you can switch to Quick Mask mode and use Image > Adjust > Levels to give the border a hard edge. In fact, you can use this anytime you need to convert a feathered selection to a hard edge.
And of course, you can make free-form selections by using any of the painting tools in Quick Mask mode.
Continue on to learn how to save selections as alpha channels and work with the channels palette.