Photography
One difference between photography and other forms of graphics is that a photographer, in principle, just records a single moment in reality, with seemingly no interpretation. However, a photographer can choose the field


A D V E R T I S E M E N T


of view and angle, and may also use other techniques, such as various lenses to distort the view or filters to change the colours. In recent times, digital photography has opened the way to an infinite number of fast, but strong, manipulations. Even in the early days of photography, there was controversy over photographs of enacted scenes that were presented as 'real life' (especially in war photography, where it can be very difficult to record the original events). Shifting the viewer's eyes ever so slightly with simple pinpricks in the negative could have a dramatic effect.

The choice of the field of view can have a strong effect, effectively 'censoring out' other parts of the scene, accomplished by cropping them out or simply not including them in the photograph. This even touches on the philosophical question of what reality is. The human brain processes information based on previous experience, making us see what we want to see or what we were taught to see. Photography does the same, although the photographer interprets the scene for their viewer.
Engineering drawings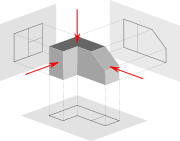 Image of a part represented in First Angle Projection
An engineering drawing is a type of drawing that is technical in nature, used to fully and clearly define requirements for engineered items. It is usually created in accordance with standardized conventions for layout, nomenclature, interpretation, appearance (such as typefaces and line styles), size, etc.
Computer graphics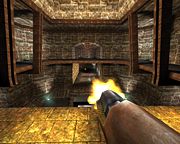 A graphic from the video game OpenArena.
There are two types of computer graphics: raster graphics, where each pixel is separately defined (as in a digital photograph), and vector graphics, where mathematical formulas are used to draw lines and shapes, which are then interpreted at the viewer's end to produce the graphic. Using vectors results in infinitely sharp graphics and often smaller files, but, when complex, vectors take time to render and may have larger filesizes than a raster equivalent.
In 1950, the first computer-driven display was attached to MIT's Whirlwind I computer to generate simple pictures. This was followed by MIT's TX-0 and TX-2, interactive computing which increased interest in computer graphics during the late 1950s. In 1962, Ivan Sutherland invented Sketchpad, an innovative program that influenced alternative forms of interaction with computers.
In the mid-1960s, large computer graphics research projects were begun at MIT, General Motors, Bell Labs, and Lockheed Corporation. D. T. Ross of MIT developed an advanced compiler language for graphics programming. S.A.Coons, also at MIT, and J. C. Ferguson at Boeing, began work in sculptured surfaces. GM developed their DAC-1 system, and other companies, such as Douglas, Lockheed, and McDonnell, also made significant developments. In 1968, ray tracing was invented by Apple
During the late 1970s, personal computers became more powerful, capable of drawing both basic and complex shapes and designs. In the 1980s, artists and graphic designers began to see the personal computer, particularly the Commodore Amiga and Macintosh, as a serious design tool, one that could save time and draw more accurately than other methods. 3D computer graphics became possible in the late 1980s with the powerful SGI computers, which were later used to create some of the first fully computer-generated short films at Pixar. The Macintosh remains one of the most popular tools for computer graphics in graphic design studios and businesses.
Modern computer systems, dating from the 1980s and onwards, often use a graphical user interface (GUI) to present data and information with symbols, icons and pictures, rather than text. Graphics are one of the five key elements of multimedia technology.
3D graphics became more popular in the 1990s in gaming, multimedia and animation. In 1996, Quake, one of the first fully 3D games, was released. In 1995, Toy Story, the first full-length computer-generated animation film, was released in cinemas worldwide. Since then, computer graphics have become more accurate and detailed, due to more advanced computers and better 3D modelling software applications, such as Cinema 4D.
Another use of computer graphics is screensavers, originally intended to preventing the layout of much-used GUIs from 'burning into' the computer screen. They have since evolved into true pieces of art, their practical purpose obsolete; modern screens are not susceptible to such burn in artifacts.